Tablet instead of clipboard
Since the beginning of 2015, Bilfinger Maintenance has been offering an app for smartphone and tablet that enables maintenance work to be documented quickly and easily while on the road. The mobile solution improves the quality of the documentation and also saves time and money.
Every innovation starts with dissatisfaction. That was how it was for Oliver Wichmann, head of the mobile Solutions business division at Bilfinger Maintenance, too: "It simply bugged me that craftspeople always have to first document their work on maintenance assignments by hand and later do it a second time in the SAP system," says Wichmann. "So I sat down with my team to figure out how we can avoid this unnecessary duplication of work, reduce paper consumption and at the same time improve the quality of the documentation."
For almost 10 years, the colleagues have been developing mobile solutions for maintenance. This experience has been incorporated into the new app for smartphone or tablets, which enables all maintenance work to be recorded quickly and completely. In addition, the solution is extremely convenient, because all information is then transmitted automatically to the SAP system. There is also a direct connection to the HSEQ system. This enables near accidents to be reported with only two clicks, for example.
"Thanks to the app, the documentation process is much more efficient. The whole thing is significantly faster now, since the double entry is no longer required. And time is money," Wichmann says. The craftsperson gets the assignment displayed on his smartphone or tablet. After completing the assignment, he enters into his mobile device which tasks he completed, how much time he required and which materials were used. The app automatically transmits this information to the SAP system.
"Our app significantly improves the quality of the documentation without additional time expenditure. That is important, because after all clients are placing increasingly more importance on outstanding documentation," Wichmann explains. In addition, the craftsperson can carry out much more precise maintenance using the app: maintenance reports are also accessible by smartphone. Employees can quickly see how frequently which error has occurred in the past and how it was rectified. Circuit diagrams or manufacturer's information can also be accessed via the app to provide additional support.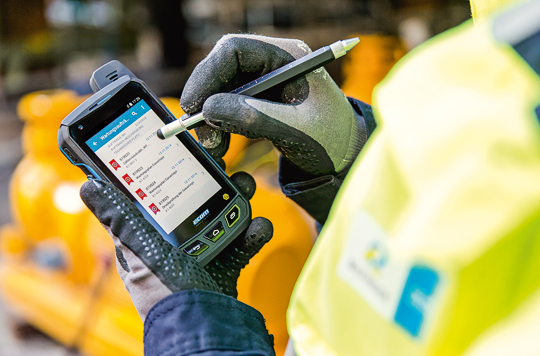 The apps run on commercially available smartphones or tablets as well as on protected devices for areas exposed to explosion hazards.
"With the aid of the app, we supply our clients with top-quality documentation in the shortest possible time. Furthermore, we set ourselves apart from the competition, because we are the only ones to offer this type of mobile solution and at the same time take on maintenance work," Wichmann explains.

Further processes can be easily integrated into the app. There is a matrix of function modules that can be individually adapted and extended for each client. Within four to six weeks, Wichmann's team can itself develop and create a fully integrated pilot application. The language versions can also be expanded without any difficulty. Up to now, the app has been available in German, English, Swedish, Norwegian and Finnish – further languages are set to follow.
By practitioners for practitioners
This type of app was used for the first time at Bilfinger HSG Facility Management at the beginning of 2014. Since then, the team has been constantly expanding the app functions for documentation. In the meantime, almost 800 employees at various companies are equipped with a smartphone or tablet. The colleagues use the app's functions for the multimedia documentation of their activities on individual, group and maintenance assignments, to create reports, measurement documents or assignments or to report near misses.
"With this app, we are not merely supplying an IT solution. Our ideas were developed by practitioners for practitioners. That sets us apart from other providers," Wichmann explains. That is why he dons overalls himself once a year to participate in maintenance assignments. Then he observes the processes very carefully and collects new ideas for mobile solutions that are designed to make day-to-day work easier for clients and colleagues.