With flexible working time models and services for the care of children and relatives with special needs, Bilfinger has for may years been helping its employees reconcile the demands of work and family life.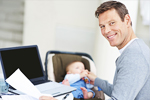 Home office
Depending on their location, Bilfinger offers employees the opportunity to work from home and using trust-based working hours, insofar as these are compatible with the job.


Summer camps for children of employees
For more than 50 years, Bilfinger has been organizing a summer camp at which children of employees can take part free of charge. Experienced counselors ensure a varied and enjoyable program.
---
The good health of our employees is important to us. Bilfinger promotes sport and exercise and our programs also take topics such as nutrition and physical well-being into consideration.
Seminars
We offer a diverse range of seminars covering topics such as "Fit and Healthy - living an active life at work and at home", "Mentally Fit and Powerful in the Office" and "Time, Personal and Stress Management".


Employee sports
Many of our employees pursue their sporting activities together. Among the sports offered are football, basketball and badminton as well as yoga and fitness courses.
A particularly attractive offer is available throughout Germany in cooperation with INTERFIT (German). In more than 600 independent fitness and health centers, Bilfinger employees can train and relax at favourable conditions.